Spiral staircases have truly stood the test of time. They've been around for thousands of years, but it's not uncommon to find them in a contemporary home today. This unique design can make the most out of a compact space, make a statement, or often do a little of both at once. Read on to learn more about spiral staircases and see some of our favorite designs…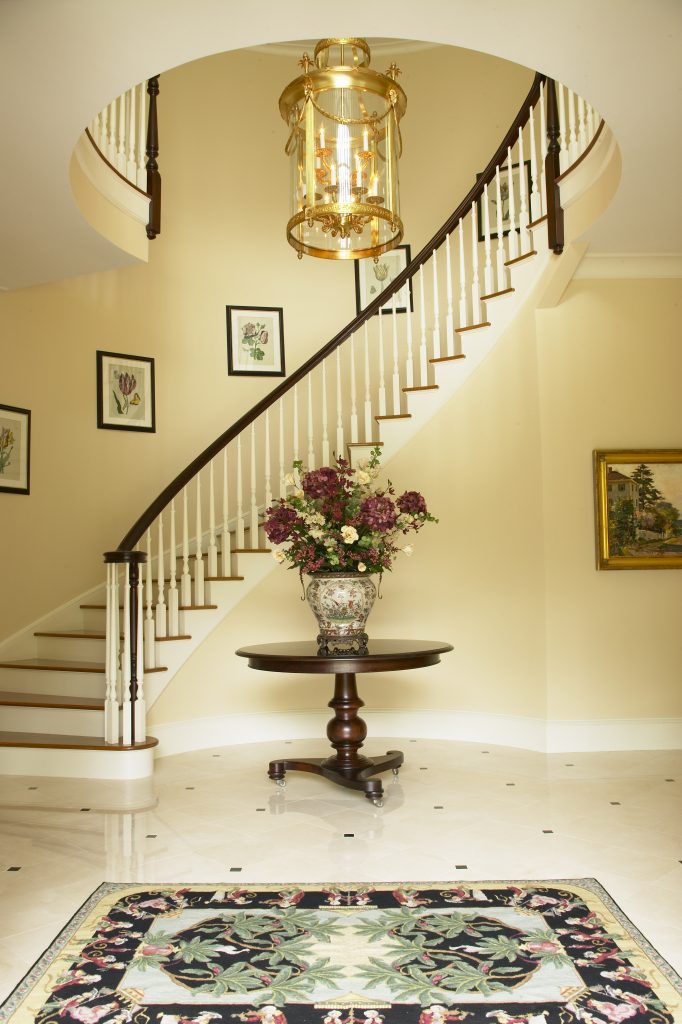 From a practical standpoint, spiral staircases often take up less room than their standard counterparts and can be a fantastic solution for a smaller space. However, many homeowners opt for a design that takes up more space to make a grand impression. In the above design, a stately spiral staircase makes a dramatic first impression with classic spindles and an elegant chandelier as the centerpiece, though it uses the overall space quite efficiently.
While the glamour of a spiral staircase has plenty of appeal, there are many things to consider before adding one to your home. Constructing any staircase requires great attention to detail, and spiral staircases are no exception. The trim pieces and horizontal datum bands must coordinate with base trim to transition vertically up a staircase, which can become challenging with the unusual compound curve of a spiral staircase. Done successfully, no one will notice, but done incorrectly the trim around stair will look rushed. 
Aside from the construction details, there are a few practical elements to think about. Will you need to move furniture or other large items up and down the stairs? Are there elderly people or others who have trouble walking who will need to navigate from one floor to the next? If so, opting for or adding a traditional staircase as another access point is a must.
Of course, if you have an experienced professional constructing your home and have addressed the above concerns, go forth and build the beautiful spiral staircase of your dreams! Below are some of our favorites for inspiration…
This freestanding spiral staircase is a lovely, contemporary take on this traditional style. The lower wall makes an interesting statement by curving with the staircase, while a window on the upper level offers a view of Mirror Lake through the clerestory windows above the main living space.
We constructed this home for a large family with a very specific vision for their spiral staircase. It functions as a "piece of furniture" in the family room, leading to an open balcony which looks back down into the living area below. The family's holiday celebrations were even taken into consideration, as the staircase was designed to wrap around a large Christmas tree.
While spiral staircases often give off a formal impression, it's a design that can truly be adapted to any style of home. This staircase constructed from natural wood fits right into this naturally inspired lakeside home. It snakes up all three stories, providing access points at each level, and is topped off with a contemporary, woodland-inspired chandelier.
All in all, spiral staircases can be a beautiful expression of both form and function. They may not be the ideal fit for every home or homeowner, but incorporating one thoughtfully into your home can serve a practical purpose and make a stunning statement. If you dream of a home that features a glamorous spiral staircase, we can construct one that's a perfect fit. Contact us today to get going.