Last Sunday, a large group of TMS employees and assorted spouses, friends and children embarked on a bus trip to western Massachusetts to view the TMS-designed Hampden Country Club. We are all very proud of this project that has taken shape over the past two years on bucolic hills overlooking the distant Berkshire Mountains. The TMS project team consisted of Shannon Alther, AIA, Principal, Jason Bailey, AIA, Project Architect and Cristina Marais, Interior Designer. All three did an amazing job and it was wonderful to be able to tour it as a group!
The golf course and former club house were bought at auction in 2012 by Jerry Antonacci, president of USA Hauling and Recycling in Enfield, CT.  He explained that he bought the club on behalf of his children and nephews who will operate it.  The family also owns a family recreation center in Somers, CT, called Sonny's Place (stayed tuned for these pictures!) which features, zip-lining, go-karts, batting cases and miniature golf.
The club is located on a 295-acre parcel of land and the Town of Hampden expressed their delight that it has remained as open space.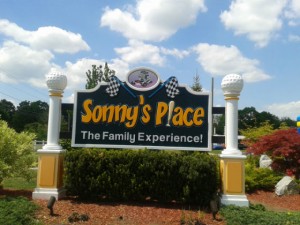 After our tour, it was on to Sonny's Place!  We enjoyed a wonderful lunch and took part in any number of the activities.