Storage is something we all seem to need more of these days. Why not find a way to add it to your home while making it visually appealing at the same time? Built-in cabinetry is extremely customizable and adds a high-end look to any room. Cabinetry can be creatively designed in any style or configuration- the possibilities are endless! Built-in millwork enables the addition of plenty of storage without adding bulky standalone pieces. This is especially important if you have a small space or an awkward layout that would not allow for the use of typical furniture. You can turn what could be an otherwise unusable nook into something specifically designed to suit your particular storage needs.
This client's dining room utilizes the custom built-in by adding extra seating in a room that will truly benefit from it during the Holidays. Just add a long table in front of the bench-style window seat to maximize the number of guests in a small dining space. Plus, it has the added benefit of being a fun place to lounge while enjoying the view during the rest of the year.
Have an empty nook in front of a window? Add a built-in window seat for enjoying a pleasant book and cup of tea every morning. Not only does this space look visually beautiful, but it provides a cozy space for a favorite activity while maximizing an empty alcove.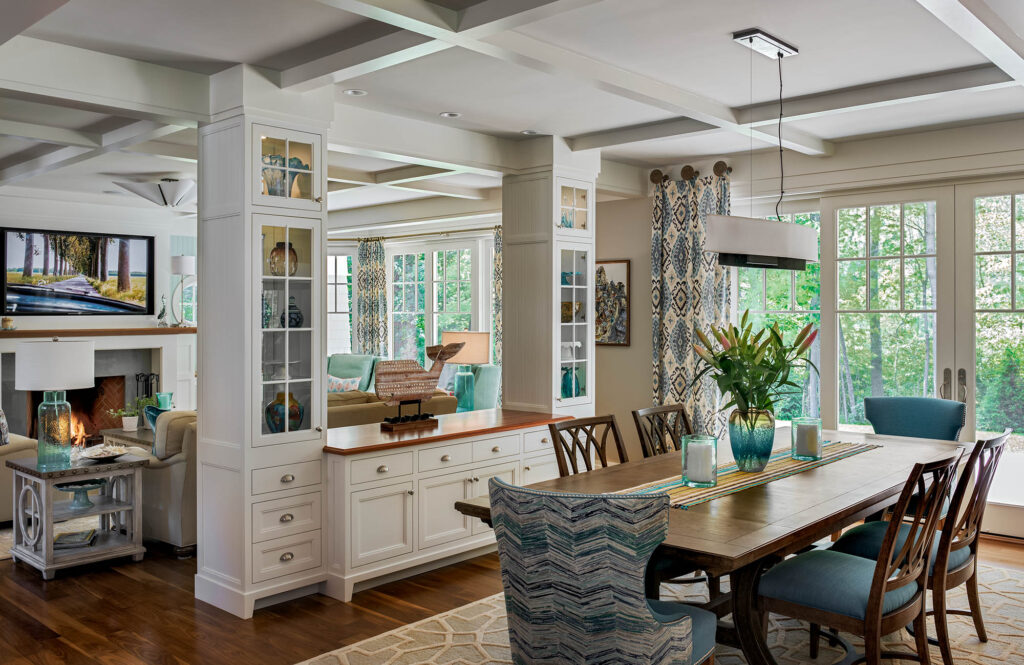 Creating a custom dividing wall is another great way to enhance your home. While providing room definition between the living and dining spaces, this cabinet also serves to give the client valuable storage space for all their tableware needs. Glass front doors allow for the display of china and other wonderful collectables.
Make even that small awkward nook useful by adding storage space in a bathroom. Custom built-ins can provide you much needed linen storage especially when space is limited. Customize it to your needs- do you want a place to display treasures on open shelving? Or maybe you want to be able to hide all those bathroom necessities behind a cabinet door? There are so many unique and creative options available!
Do you need help adding some custom storage pieces to your home? Contact us to get started on your next project!