Every April the design team here at TMS makes an annual pilgrimage to the High Point Market – the interior design industry's biggest trade show. High Point Market, which is open every six months, draws in more than 75,000 designers, architects, and industry professionals. The market's current demographics are seriously impressive with 180 buildings, 12 million square feet of showrooms and the presence of 2000+ vendors. Each market is bigger than the next! After taking some much-needed time to process all that we saw this year, here are some of our favorite design trends seen at Spring 2019 High Point Market…
Color Palettes
Color stories which we noticed included 'tried and true' white and blue palettes as well as slightly edgier pairings like pink and green. A popular color that we saw being used by so many vendors was yellow. It definitely brought our team a much-needed touch of sunshine after braving another New England winter!
Blues and whites are a staple color palette for us; we are located in the coastal northeast and our clients love a crisp and timeless look inspired by the ocean and blue skies. We were so inspired by all of the new and refreshing ways in which we saw these colors presented – lots of new textures, patterns, and combinations!
Made Goods

Imagine Home

Artesia
An accent of a bright and cheerful yellow is sure to liven up any space. We loved seeing the sunny hue incorporated into artwork, textiles, and accessories. Using yellow as the primary accent color looks beautiful, but it's also the perfect complementary color to add into the mix and makes reds and white pop. Shown below are some of our favorite sunny spaces!
Century Furniture

Summer Classics

Baker
In Full Bloom – Sculptural Floral
With spring in the air, we expected to see lots of florals; however, we were pleasantly surprised by the innovative ways in which they were presented! Lots of designers took a leap away from using traditional floral prints and brought this concept three dimensional. Some designers took an extravagant approach to florals, incorporating larger than life floral arrangements into their showrooms, while others interpreted floral shapes as part of the furniture.
New Growth Design

New Growth Design
Baker

Baker
Bringing Green Inside
Keeping in context with bringing sunshine and florals indoors, there was definitely no shortage of greenery either! Natural and bright, soft and subdued, and even deep and moody greens were a huge trend when it came to textiles. The majority of artwork tended to depict natural life, and greenery was an essential accessory for many designers.
Highland House Furniture

Baker
Century Furniture

Allstate Floral
"Tiny House" Furniture
A fun little surprise we noticed when it came to furniture were secret compartments and even "tiny house" features hidden inside.
Our favorite piece of furniture showcased at High Point Market was hands down the Grand Staircase Bureau by Theodor Alexander. How adorable are these tiny stairs?
Theodor Alexander

Theodor Alexander
One of our favorite parts of the week was running into Bobby Berk, who was at High Point showcasing his new collection with A.R.T Furniture. Besides being a talented interior designer, Bobby is a well-known star of the popular Netflix series, "Queer Eye for the Straight Guy". We loved getting to check out his new collection which includes both indoor and outdoor pieces. Bobby says this new collection "offers elegant home essentials that fit seamlessly with a variety of interior design styles."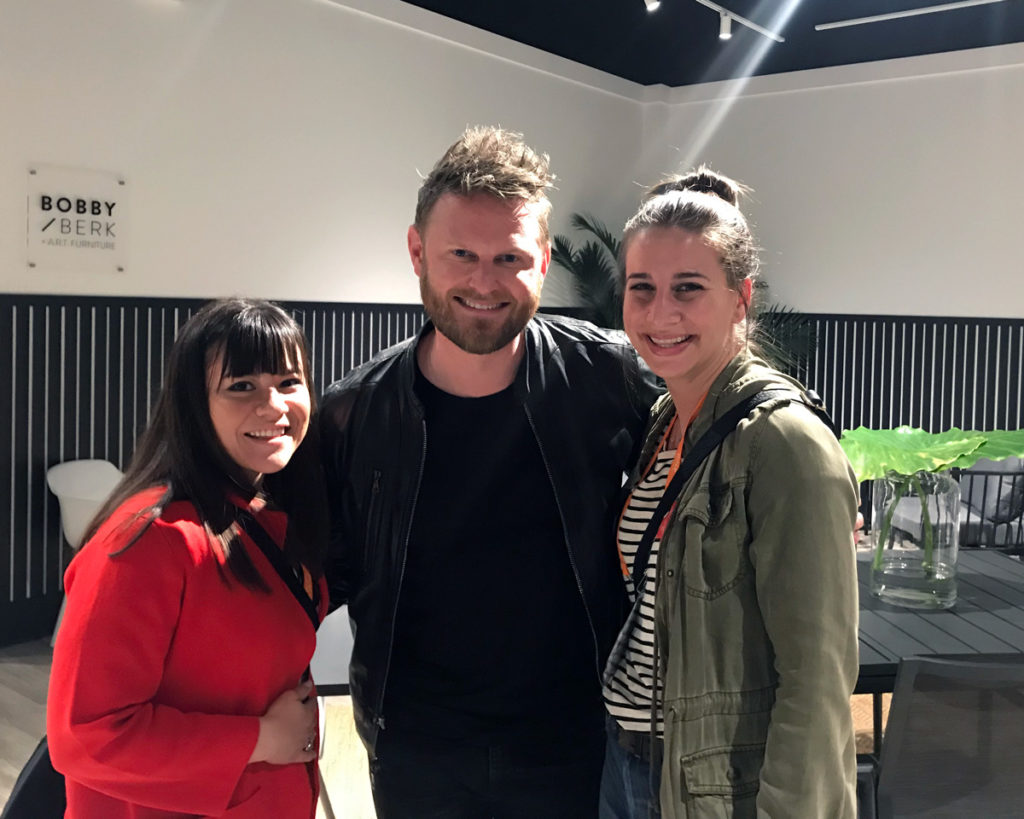 As always, we had a wonderful time exploring and getting inspired at High Point Market. We're looking forward to incorporating many of these trends into our future projects! Did you have a favorite? Comment and let us know!
If your home needs an interior refresh or complete redesign, get in touch with us today.