Architecture Advocates: Sarah Foster
by J Dennis Robinson
Portsmouth is unique. New Hampshire's only seaport, soon to celebrate its 400th anniversary, blends charm and culture with vitality and commerce. In this series historian J.Dennis Robinson profiles people who influenced, honored, pictured, preserved, and promoted the historic architecture of "The Old Town by the Sea."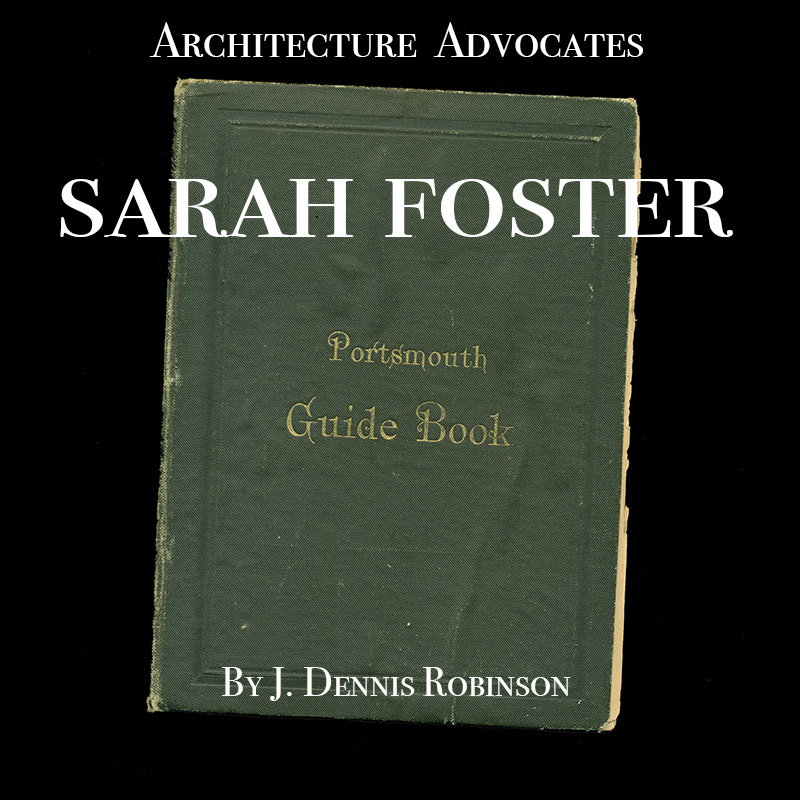 Sarah Haven Foster had a great idea. What Portsmouth, NH needed was a guide to its many historic houses. Sarah knew a lot about Portsmouth. She was a good writer. She was also a skilled traveller, having toured Europe when she was only 16. Best of all, her father was a prominent local publisher.
But Sarah was a woman. And local women rarely published books in the mid-1800s.
Sarah was also a painter. She painted scores of historic buildings in the Seacoast region, often from many angles, returning time and again until she got the picture right. Today a huge collection of her small watercolors are archived at the Portsmouth Public Library.
Times changed. She was 50 years old before  A Portsmouth Guidebook was completed. Following the Civil War, tourism was booming along the Atlantic coast. Visitors arrived in droves aboard a new network of trolleys, trains, and ferries.  Sarah's portable European-style booklet included nine tours through New Hampshire's only seaport. Borrowing heavily from Charles Brewster's Rambles About Portsmouth, Sarah's low-cost, cloth-bound guide also included advertisements, most directed to women. Her brother Joseph Foster became the publisher. Surviving copies are rare and fragile.
Sarah's guide book lasted three editions, before slick guides including photographs took over. Never married, Sarah Haven Foster devoted her life to her writing, her art, and to travel. Sadly, we have no portrait of her. Sadder still, she was killed at age 73 at the dawn of the twentieth century.
On August 19, 1900, the "grandmother of Portsmouth tourism" was crossing the street in front of her home when one of the new-fangled trolley cars clanged past. Hard of hearing and with weak vision, Sarah Foster stepped across the track, unaware that a second trolley had been added to the line. She was struck and thrown a great distance, and later died of her injuries.
J. Dennis Robinson, is the author of a dozen history books including Mystery on the Isles of Shoals,  available in local stores and online at Amazon.com. You can follow his history posts on Facebook here.