As a brand new year begins, many of us find ourselves craving a fresh start. While everyone else is breaking a sweat at the gym or trying out a trendy new juice cleanse, we prefer our New Year's resolutions to have some staying power. Giving a room in your home a brand new look can be the perfect way to invigorate your senses this winter and beyond.
We chatted with TMS's Interiors Project Manager, Cristina Marais, about up and coming Interior Design Trends for 2016. Think blushing pinks, splashy wallpaper, patterned tiles, natural elements, and a focus on comfort and hospitality. Read on for a little inspiration…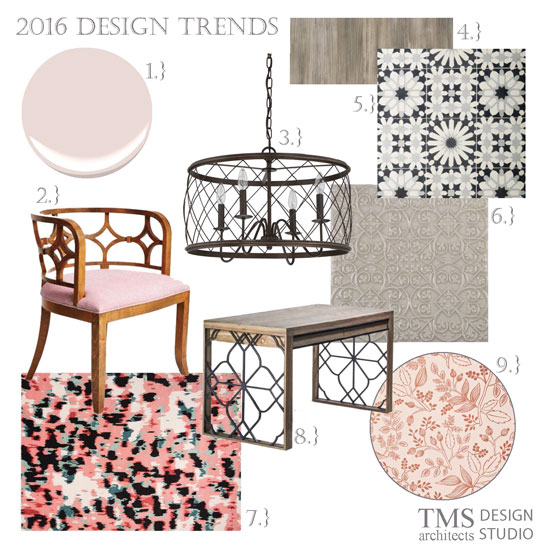 Casual Elegance
Soft pinks, intricate patterns, and natural elements rule in today's living spaces. Pops of pink  cultivate a whimsical and welcoming feeling within a room, and offer a fun, contemporary alternative to classic neutrals. Bronze hardware and natural details compliment this trend beautifully and can add a rustic-chic dynamic to the room. Flooring is front and center this season, as ceramic tiles with Spanish and Moroccan-influenced patterns gain popularity. Mix and match these trends to create a warm, feminine, and modern space.
Pictured above:
A Touch of Hospitality
Now more than ever, we're looking for ways to make our homes as comfortable and welcoming as possible. From extra mudroom storage to fully stocked beverage carts, many of us are going the extra mile to make our guests feel at home. In the design above, shelving for extra towels adds an instant resort-like quality to the bathroom. Bronze plumbing and lighting fixtures and a natural stone backsplash create a soothing, spa-like aesthetic within the space.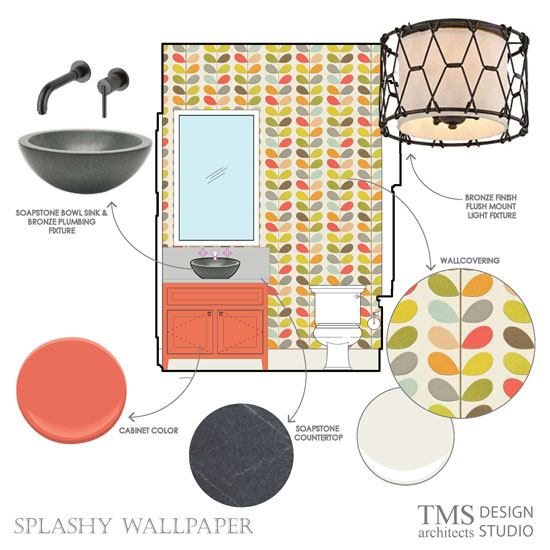 Make a Splash With Colorful Wallpaper
Brightly colored wallpaper with splashy patterns are making a statement this season, and a little bit goes a long way. Use patterned wallpaper to inject a fun pop of color into an unexpected space in your home, like a powder or laundry room. That's exactly what we did in this design, rounding out the look with a cheerfully colored cabinet, elegant soapstone countertops and sink, and (once again) bronze lighting and plumbing fixtures.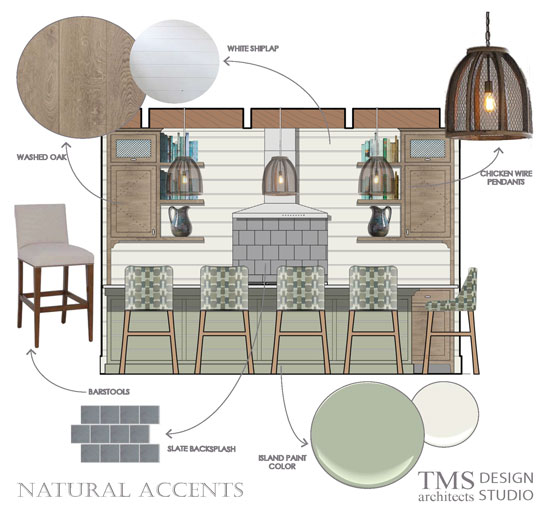 Relax with Natural Accents
There's just something oh so soothing about colors, materials, and textures that remind us of nature. This is one trend with staying power, and it's a look that works well in almost any home. In this kitchen design, washed oak kitchen cabinets work with natural textured tile to create a refined yet casual look that so many of us strive for.
Whether you're looking to update a single room or overhaul your whole home, the TMS Design Studio is a wonderful place to get started. Here, you can dig deeper into any of these trends with the expert assistance of the TMS team. If a contemporary new look is in the cards for your home this year, contact us to get started.