Like most of the world at this moment, all of us at TMS Architects and Interiors are working from home to stop the spread of COVID-19. This means that many of us needed to improvise and put together home offices and workspaces at the drop of a hat. Many of us have converted guest bedrooms, basements, kitchen tables, and cobbled together spaces for ourselves in various corners of our houses while navigating all of the other challenges that the lockdown has brought.
All of these challenges have highlighted the importance of good home office design and workspace setup. Luckily, TMS has years of experience designing home offices for clients at a variety of scales. From small workspaces in the kitchen to grand home offices, TMS has designed it all.
No matter the office size, however, there are several rules set forth by many productivity experts that apply to all workspaces, no matter the size or how quickly they were set up. Here are a few of our favorite tips for designing a functional, beautiful home office…
Make sure the office not only looks good, but helps you feel good too. Now that we are all working from home we are spending lots of time in these home offices and they need to be ergonomic and not strain our eyes, backs, or brains. Keep computer screens at eye level or slightly below, position the keyboard so your arms are parallel to the floor, and ensure that your feet are resting on the floor. Make sure you also have a chair that supports the back and is comfortable to sit in.
Natural light makes a huge difference to the home office. If you can, always position your desk near a window so that you can give your eyes an easy break from the screen to look out the window.
Artificial light is also incredibly important because light will reduce eye strain and illuminate the space when the weather isn't sunny or for the darker hours of the day. Overhead lighting is almost always inadequate for task work so make sure to have a few table lamps to light up the space.
People always seem to be running out of storage space so make sure that you have adequate space to organize and store papers and files. Although you can be very creative with these, don't just gravitate towards large bulky filing cabinets. Look into built-in bookcases with doors, open shelves and baskets, or wall filing systems, similar to a magazine rack.
A great home office has space for working but its also important to have more comfortable lounge seating if you'd just like to read a book or casually review notes for a project. Make sure to have all the things needed for a comfy space like a great chair with a place to put your feet up, a side table for a cup of coffee or tea, and adequate lighting.
Greenery also can help to bring life and break up the visual landscape of a home office. Make sure to get plants that don't require constant maintenance to avoid going into your office on weekends to water or prune them.
Even in your home, it is still important to personalize your office so it feels like a comfortable space. And make sure to mix up these items on occasion to keep the area visually stimulating. Family photos, favorite projects, sports memorabilia, or children's drawings all make the space feel personal and often will remind you what you are working towards.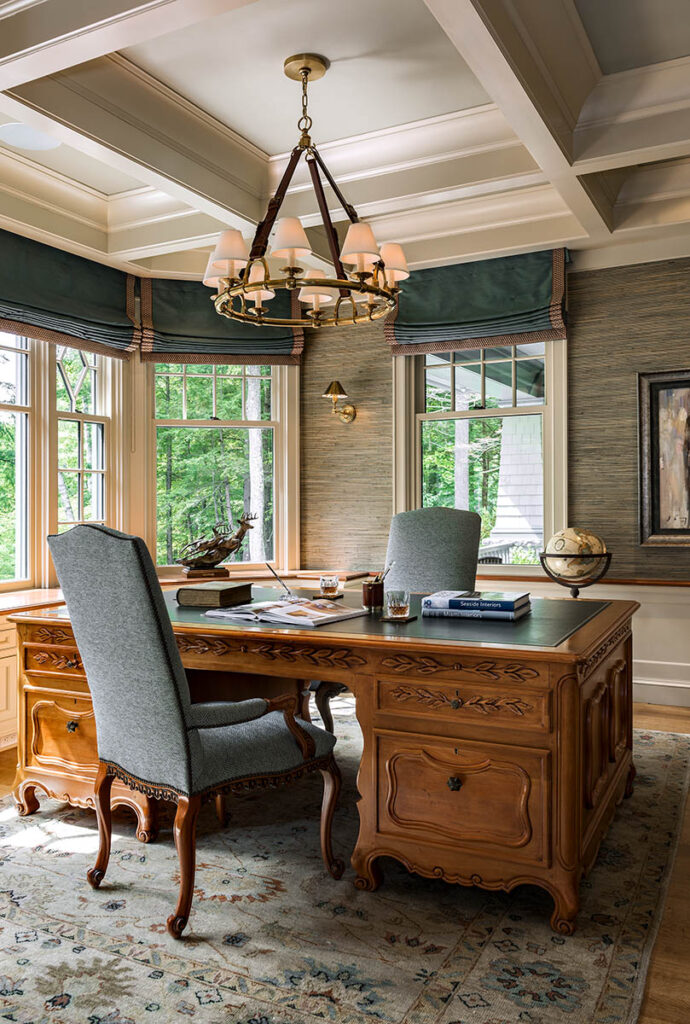 Make sure to display personal effects, but also ensure that unsightly things like cables, wiring, and printers are hidden to give the office a more comfortable, clean feeling. Luckily these days desks can be made custom to hide these sorts of things or even can bought with cable management organization integrated in already.
If it's possible, ensure that all of your office supplies are stored in your office in order to minimize trips out into the house (which can cause distractions) and can be frustrating if you need to constantly leave your space to retrieve a stapler, paper clips, or stamps. Also, keep a small coffee maker or tea kettle along with snacks to cut down on distractions and wandering around the house during the workday.
Do you have a favorite tip for creating a productive work from home environment? Leave a comment and let us know! And if this time at home has you thinking about refreshing your home, please get in touch.